TRU BLU MEDICAL WRAPS
• Biophotons are absorbed through the skin pigment called melanin.
• That biophotonic light can be stored as energy and help to enhance the repair and regeneration of tissues.
• Blue LED light has been shown to increase the nitric oxide production in skin.
• Increased nitric oxide can help improve the circulation of an area to bring nutrients and increased oxygen.
• Nitric oxide in turn downregulates opiate receptors that give signals of pain to the brain.
The TruBlu Medical Wrap can be used on any part of your body.
May also be used at night during sleep.
---
ORDER NOW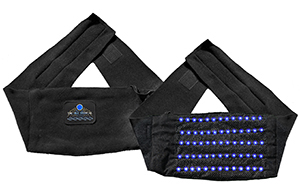 Tru Blu Medicine Wrap – Medium
42 ½ inches long
9 ½ inches wide
Fits girth size 30" – 40"
[wp_paypal button="cart" name="My product" amount="1.00″] [wp_paypal button="viewcart"]